973-564-7673 Fax
"CLICK UNDERLINED ITEMS FOR LINK"
Letter Carrier and CCA Pay Chart as of 11/20/2021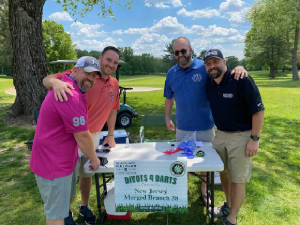 Pictured above are Pete and Marc Marchesani, Armando Pedreira and Joe Zammito. Marc Marchesani, owner of Black Jack Mulligans had a golf outing and invited Armando and Joe to sell MDA bracelets. They raised some $650.Great job to all.
MDA
Branch 38 NALC would like to thank all of our members for keeping our branch at the top of the MDA list. Our members always go above and beyond for this wonderful cause.
Click Here for Postal Record MDA flipping pages.

Pictured above with Postmaster Silvia Glover and Branch 38 President Mike O'Neill are Newark NJ Letter Carriers Linda McNair, Crystal Murdock, Lisa Sharif, Kyle Butler, Henry Miller Jr, Timothy Melvin, Vincent Hayes, Jerome Alexander and Terence O'Neil. These carriers were recently presented with Million Mile Awards for going accident free on either walking or driving routes for over 30 years. Also receiving awards, but not pictured are Ruben Velasquez and Edward Fitz and also honored postumously were recently deceased carriers Hiram Gonzales and Thomas Boswell. Congratulations and thanks for your many years of dedicated service and for always putting safety first.

December 1st Branch 38 Membership Meeting is scheduled to be at the Woodbridge Elks at 7:30 pm.
Please Visit Our Retirees Page for Powerpoint Slides
Please help Branch 38 in helping MDA by purchasing a bracelet here
NALC/USPS Extend all memos through 09/30/2021 in regards to Covid-19
The NALC Veterans Group
Donate to MDA
*Please help Branch 38 in supporting MDA*
By clicking this link, you can donate to this great cause.
OWCP Claims for COVID-19
COVID - 19 NALC Headquarters